Trad nights, folklore, and – most importantly – our beloved pubs are popular around the globe. Read on to familiarise yourself with everything Irish culture has to offer.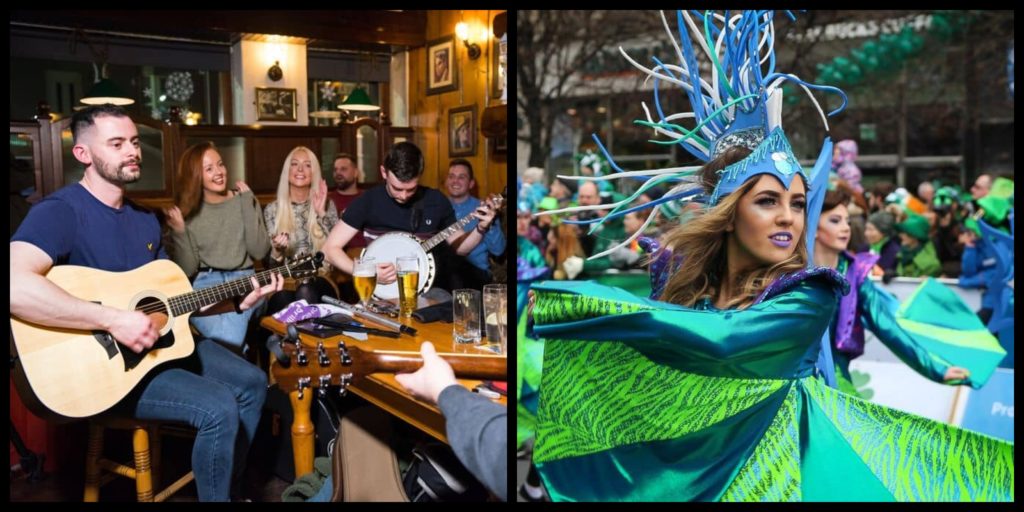 The Emerald Isle might be a small country. Still, Irish culture is famous worldwide, just think of Riverdance or the massive annual Saint Patrick's Day parades in Dublin, Sydney, Boston, and London.
The Irish take great pride in their traditions and have no shortage of charming customs loved by both locals and tourists alike. No visit to the country would be complete without joining in the fun.
From pubs to potatoes, from rugby to Nobel literature, check out our beginner's guide to Irish cultural traditions below.
10. Pilgrimage – climbing Coragh Patrick to honour the Irish patron saint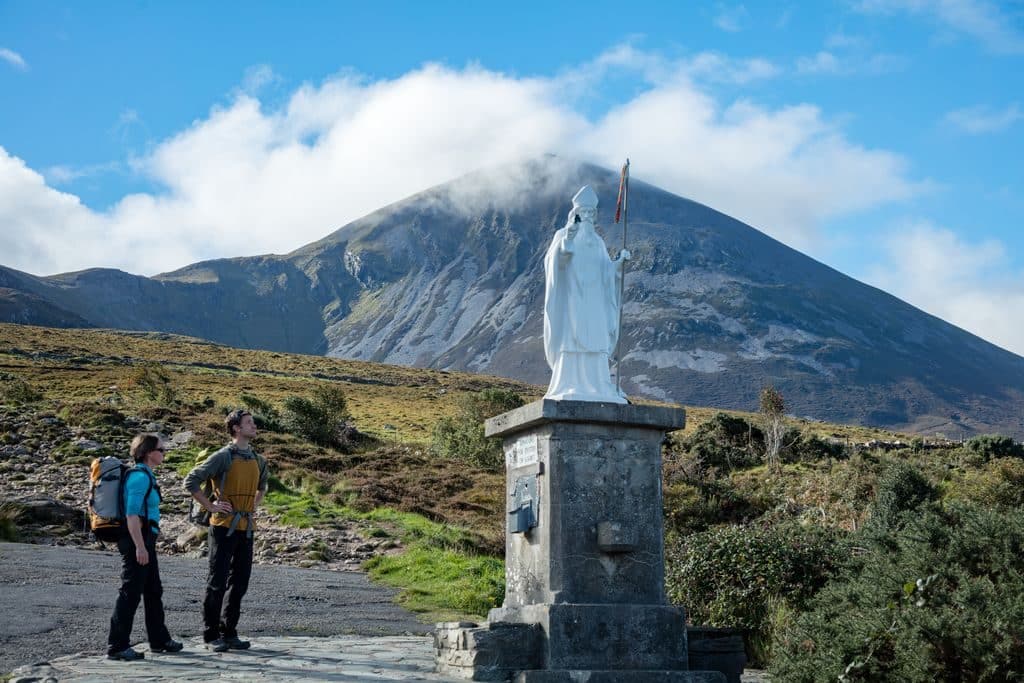 Every last Sunday in July, tens of thousands of Irish climb Croagh Patrick in County Mayo in honour of Saint Patrick who, according to Irish traditions, fasted and prayed on the summit for forty days in 441 AD.
While the Celts used to make the pilgrimage every year and the religious part was vital, these days many instead use climbing "The Reek" as an excuse for a fun day out before hitting the small pub near the base of the mountain.
Whatever the motive, Croagh Patrick is one of the most important landmarks in Ireland, and its spectacular views are well worth the workout.
9. Sports – match days are (unofficial) national holidays in Ireland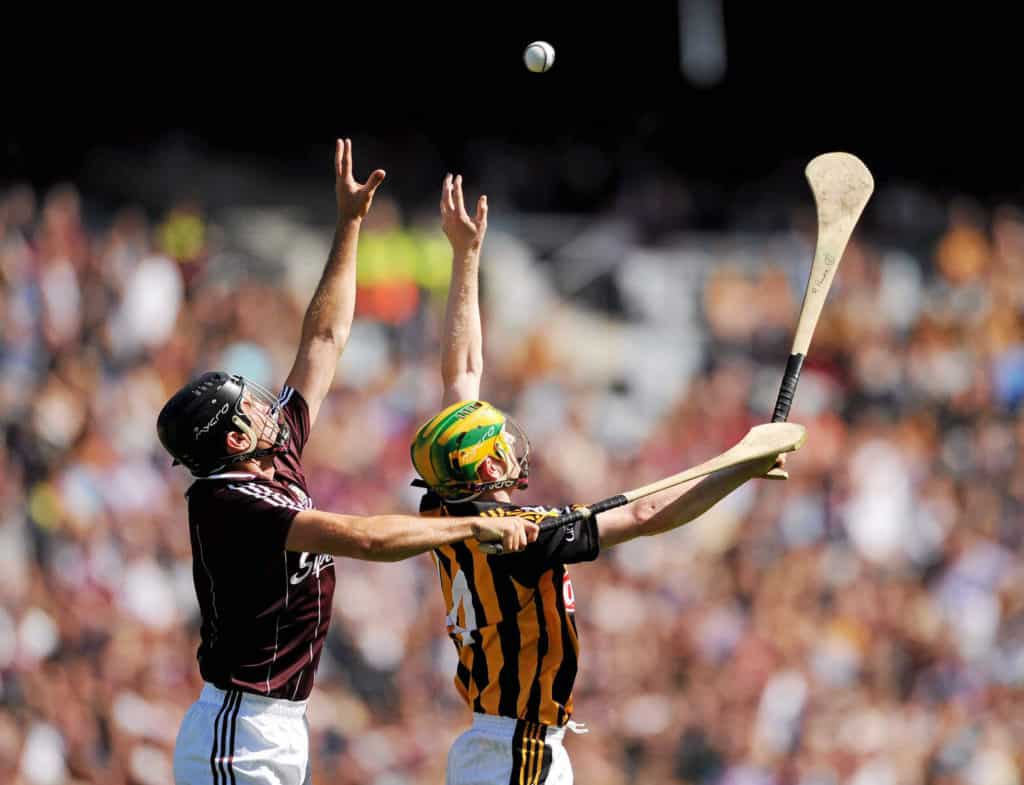 Sport is a huge part of Irish culture, and most people are avid supporters of their teams, dressing up in the national colours and hitting the pubs with their mates for significant games.
The most popular sports on the Emerald Isle are soccer, Gaelic football, hurling, and rugby, with the traditional Gaelic football dating back to as early as the 19th century.
Even if matches aren't your cup of tea in everyday life, we still recommend you join your Irish friends at least once for the craic.
8. Fry up – the perfect way to stuff yourself for the whole day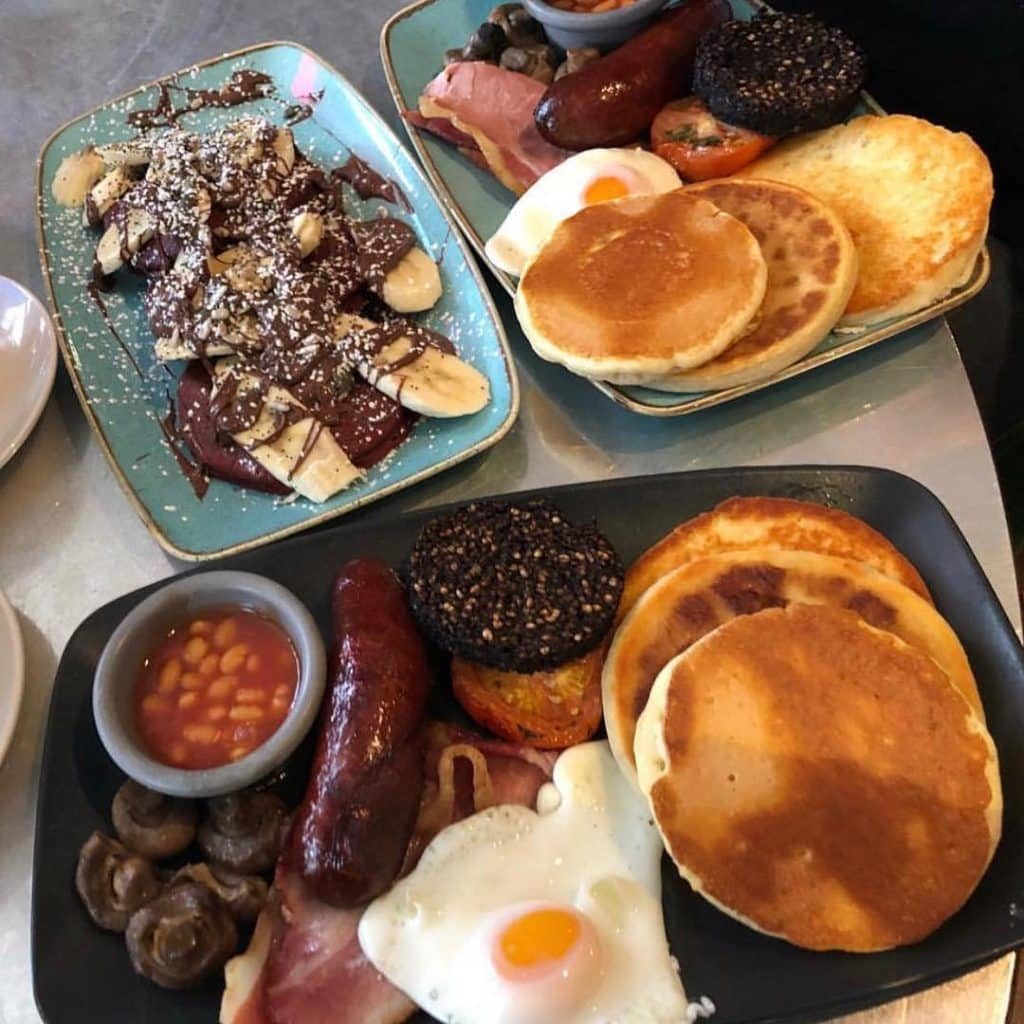 The full Irish breakfast with bacon, sausages, baked beans, eggs, black pudding, tomatoes, mushrooms, and toast dates back as far as the 1300s and still defines Irish culture today.
While it was considered a luxury in the early days reserved for the rich and famous, it can now be found on pretty much every cafe and pub menu and is wildly popular on weekends (and every day while on holiday).
Not convinced about the meat part? No need to worry, more and more places now also serve healthier vegetarian and vegan alternatives.
7. Potatoes – the nation's number one vegetable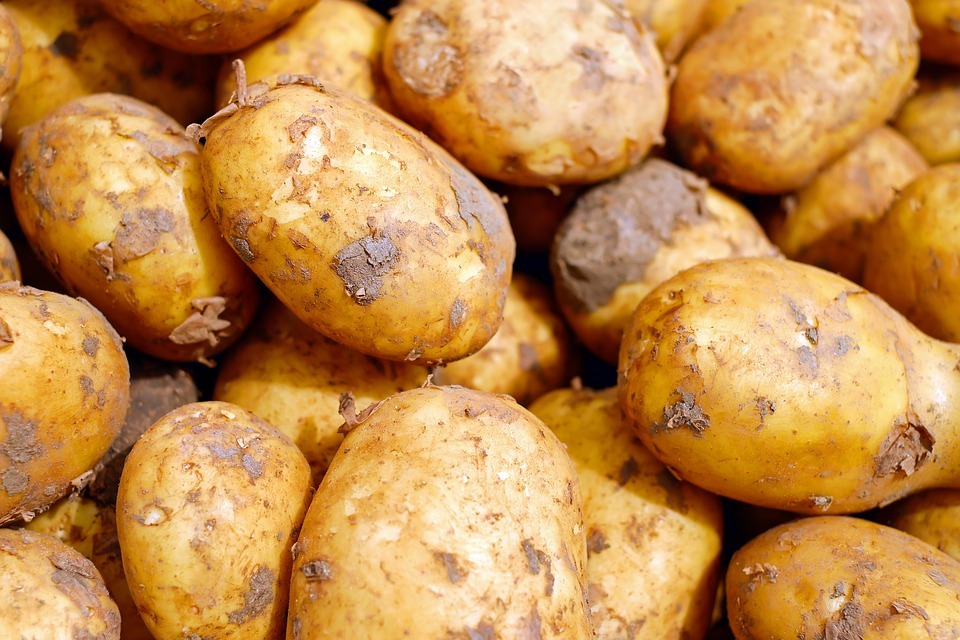 Even if the potato only made its way to Ireland in the 16th century, it hasn't left our plates since.
No matter if you head to a down-to-earth pub or a top-notch restaurant, it will accompany almost every dish on the menu.
The potato's massive popularity originated in its role during the Great Famine in Ireland (1845 to 1849) when a blight destroyed the crop and a million Irish died. Another million packed their bags and fled the country.
Potatoes these days come in all forms and shapes, ranging from mashed potatoes to chips, gratins, wedges, and soup ingredients.
6. Literature – Dublin is the Nobel Prize capital of the world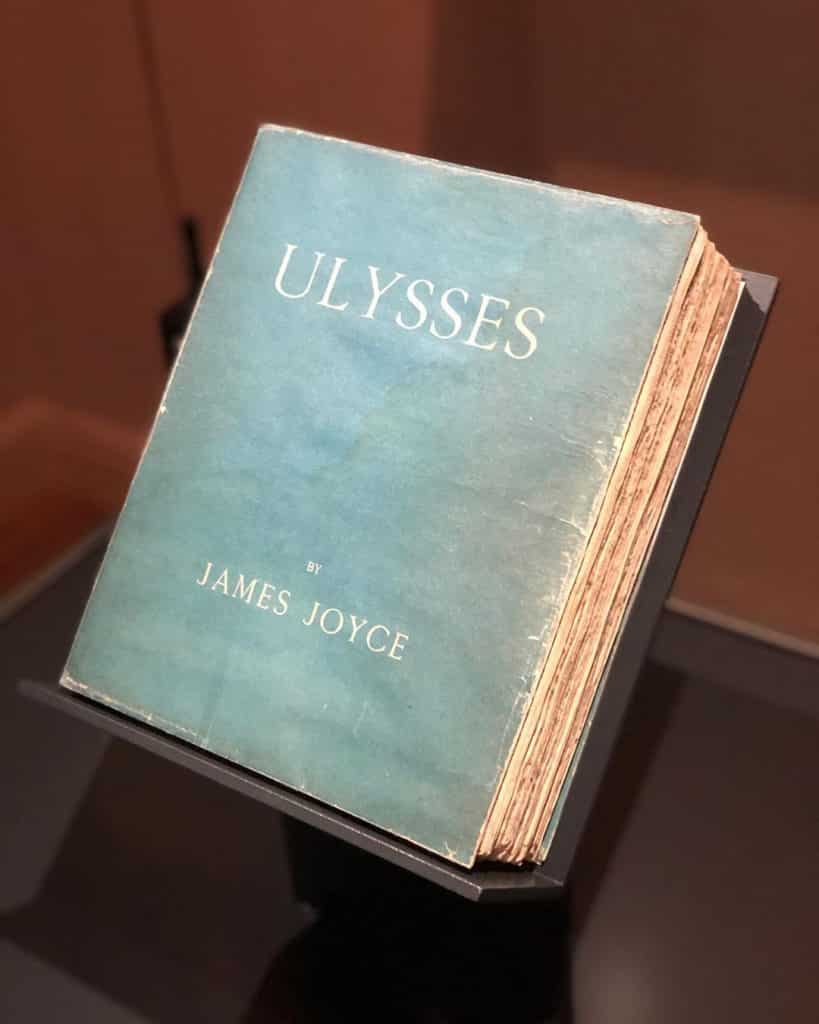 While most of us have never actually managed to finish James Joyce's Ulysses, literature still plays a significant role in Irish culture.
Some of the most famous names (besides Joyce) include Oscar Wilde, Jonathan Swift, W.B. Yeats, Bernard Shaw, and Samuel Beckett, but the list goes on and on.
Dublin has always been the central hub of the scene. With three of the four Nobel Prize winners born in the capital, it has more Nobel literature laureates than any other city in the world.
5. Folklore – leprechauns and fairies are our nation's secret heroes
Mythology is an essential part of Irish culture. Even if the locals might occasionally turn their noses up at tourists asking where to find leprechauns, they are still proud that their country has more fairy tales, hero stories, and legends than most.
Like pretty much all things Irish, the ancient folklore dates back to the arrival of the Celts. Another of the top Irish cultural traditions.
With tons of books, museums, and tours dedicated to Irish mythology these days, we are confident you will leave the island a fairy pro.
4. Irish dancing – the art Riverdance made famous around the globe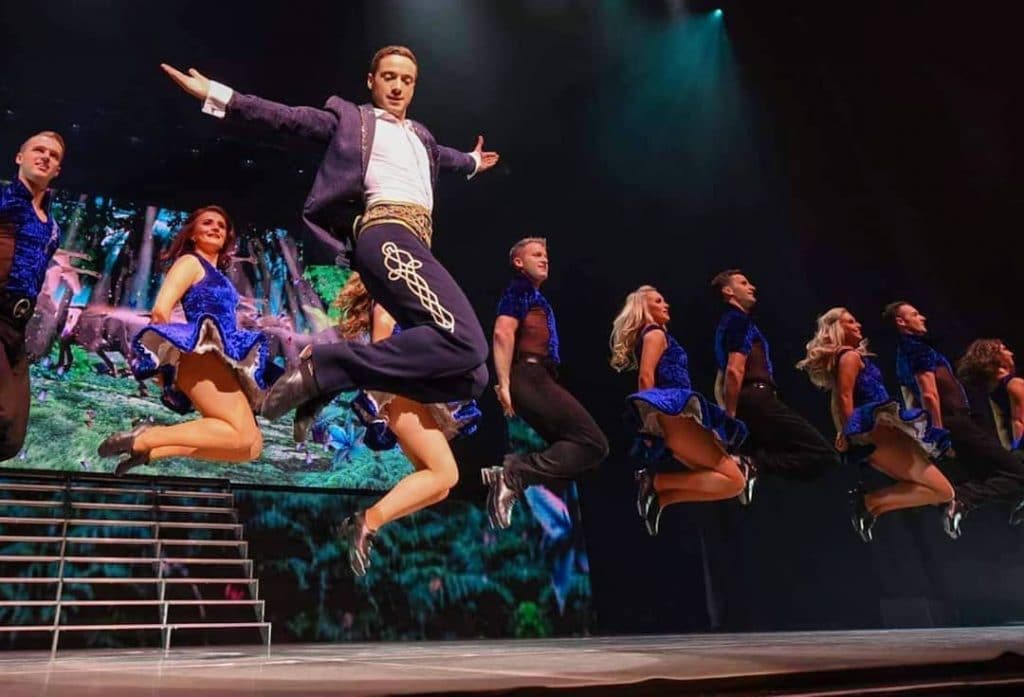 Chances are you've heard of Riverdance (or have even seen a live show) before you even set foot on the Emerald Isle. The traditional jigs and step dancing have been popular around the world since the 1990s.
Irish dancing dates back to the Celts and was taught by travelling dance masters around the country in the 17th and 18th century.
For the past decades, it has been an important part of promoting the culture of Ireland worldwide.
Watching a show is a good start, but if you are really into the art form, we'd recommend booking a dancing class.
3. Trad music – a Celtic tradition best enjoyed at the pub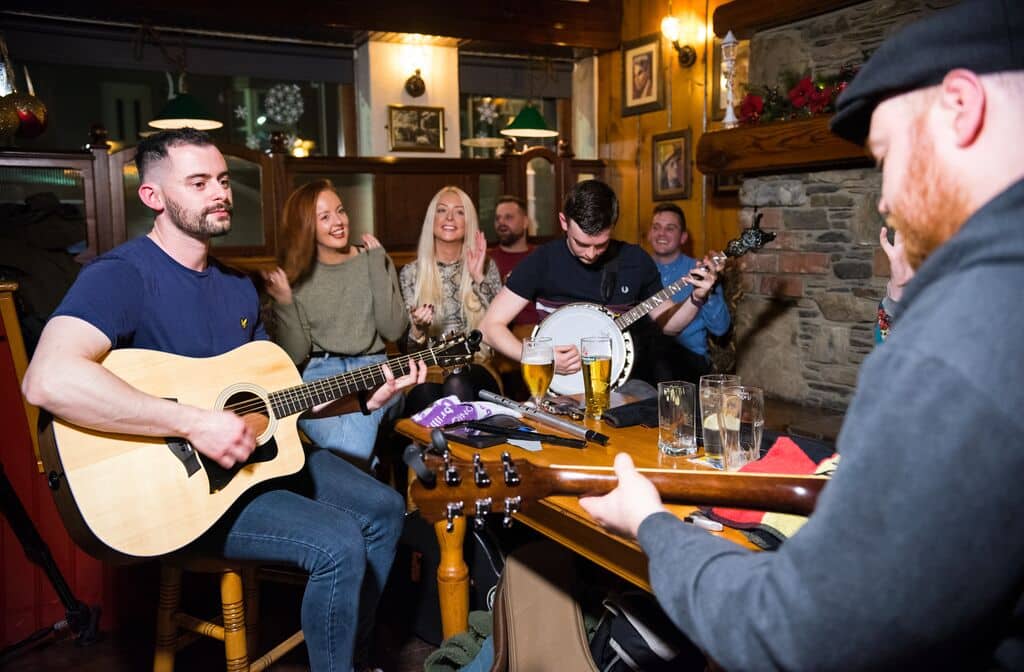 People from all corners of the globe travel to the Emerald to experience trad music in its natural setting – the Irish pub.
One of the most popular traditions in Ireland, it dates back to the Celts that arrived on the isle almost two thousand years ago, bringing along their music and native instruments.
While you can listen to the traditional tunes, typically featuring harps, flutes, fiddles, and acoustic guitars, pretty much everywhere in Ireland, we recommend checking out a trad night at an old-school pub.
You might find yourself enthusiastically clapping along or even trying out some Riverdance moves.
Don't worry, we love it when visitors fully immerse themselves into the Irish traditions.
2. Pub culture – one of the top Irish cultural traditions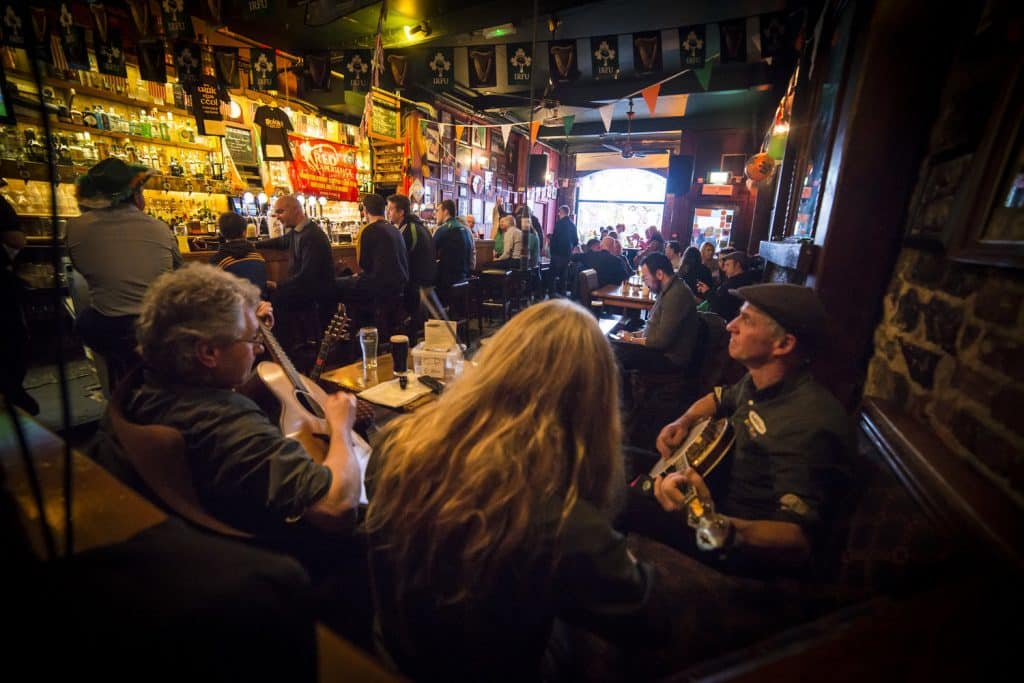 Pubs have been an integral part of Irish culture for a millennium. This is where the locals go to socialise, relax, have a pint (or likely more than one), and generally spend a major part of their days.
Evenings are best for first-timers as you will probably stumble into a traditional trad night (see number 3) or a spontaneous singalong at some point.
Be prepared to spend more time (and money) at the pub than you had initially planned – we guarantee, the new Irish friends you will have made by the end of the night, and the craic you have had together were well worth it.
1. Saint Patrick's Day – when the whole world sports the Irish flag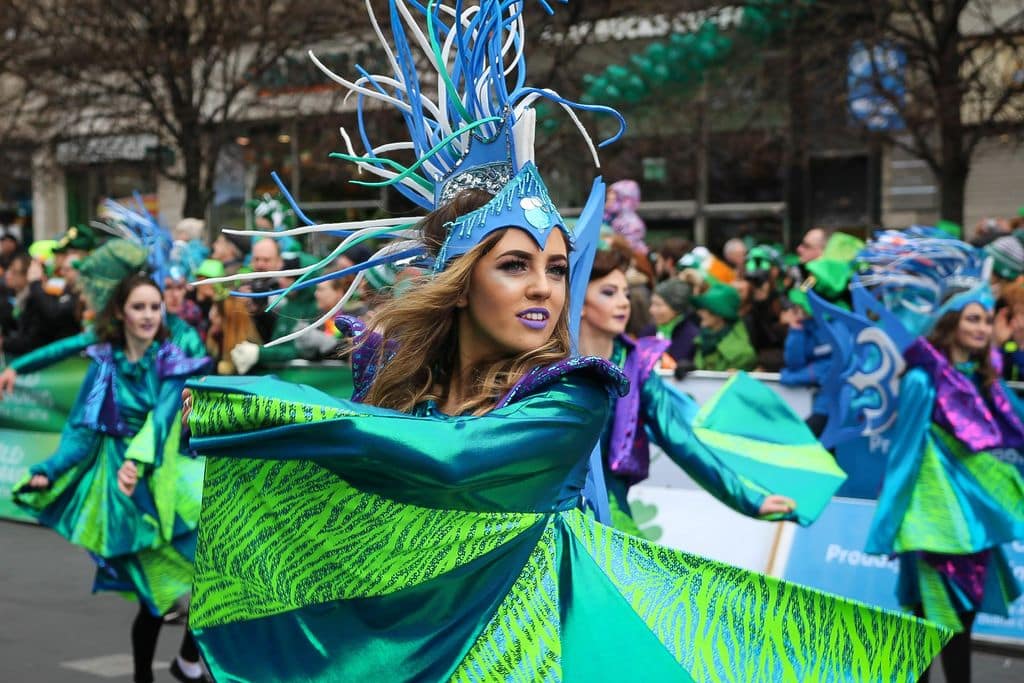 Every year, millions of people take to the streets and pubs on the 17 March to celebrate Saint Patrick's Day.
The most important annual holiday in Irish culture since the early 17th century, it marks the death date of the patron saint of Ireland.
If you are on the Emerald Isle that day (and you should at least once in your life!), this is the day to sport flags, shamrock t-shirts, and leprechaun hats before raising a pint (or two or three or four).
Saint Patrick's Day is celebrated among more countries around the world than any other national holiday – a fun fact that makes us pretty proud of our country and our culture!
There you have it, the top ten Irish cultural traditions you need to experience.
Astrid Hofer works as a freelance journalist for media outlets around the world, mainly writing about travel, lifestyle, and pop culture. When she is not busy listening to live music in one of her favourite pubs, taking cheesy sunset pictures at the beach, or cliff walking, she can usually be found over a mug of hot chocolate planning her next trip.